Urbatect, thinker, writer, and tinkerer

Ayssar Arida is available for talks, workshops, joint ventures, project commissions, and public lectures. He welcomes informal discussion and can be contacted through this link or by email: ayssar at quantumcity dot com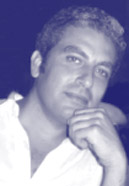 Trained and practicing as an architect and urban designer, Ayssar Arida has over 17 years of international experience in leading multi-disciplinary teams on medium and large scale projects. As a lecturer, entrepreneur and consultant, he is also extensively involved in various projects and productions, from public relations campaigns, corporate identity and environment branding, to software and web development, multimedia, art and film.
He is widely conversant with contemporary culture in particular its manifestation in urban settings and on the internet. An intuitive lateral thinker, his work has often proved visionary in its early recognition of cultural and technological paradigm shifts.
Ayssar is a confirmed researcher and innovator whose design work has received major accolades and top industry awards (including Cityscape Dubai 2005 and MIPIM 2006 for Doha Gardens: Contemporary Islamic Living in Saudi Arabia). His lectures and books including seminal work on 21st century cities and culture are now influencing design education and practice across Europe and the USA.
In addition to regular collaboration with international design firms, Ayssar Arida has consulted for different organisations, including American, Lebanese, and European schools, London based Zenith Foundation for Contemporary Arab Arts, Brussels based CEMEDE (Centre Euro-Méditerranéen pour le Développement), and Beirut based PRS Public Relations and Services. He is the co-founder of the Centre for the Spatial Realm, a creative research group particularly focused on the interaction between art, culture, science and technology in public space. Q-DAR has launched ArchsiteStudio.com (online portfolio tools for architects and designers) and preparing to launch quarkbook.com.
Position
Founder and director of Q-DAR development | architecture | research, a London based consultancy thinking and producing diverse projects ranging from digital interfaces to large scale urban design interventions.
Qualifications
M.A. Urban Design with distinction (Oxford Brookes UK)
Dip. Urban Design (Oxford Brookes UK)
B.Arch (American University of Beirut)
Bio last updated April 2011